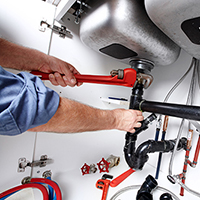 There is nothing that could possibly be as annoying as blocked or clogged drainages. They could cause flooding, bad smells, damage to internal and external pipework among many other bad things. The primary cause of blocked drains is commercial, and household waste is accumulating in pipes mainly because of food waste, bacteria, grease, and soap. The waste is consistently washed down drains and consequentially builds up on pipework or u-bends. The common kinds of blockage we deal with are blocked baths, sinks, showers and exterior drains.
As the most qualified and reliable plumbers in Durban, we have several methods of drain cleaning that we can utilize. We have a number of ways that we can use to flush pipes to get rid of all the wastes that have accumulated. One of the methods is to use a mixture of chemicals that break down the deposits that have caused a blockage. After that, we use high pressured hot water that fully cleans and sterilizes the pipes. These chemicals that we use are very corrosive, and therefore they should be used with great care or as directed by professionals.
If you are in a situation where the shelf products are not in a position to clean your drain with success, this means that you are going to require some heavy- duty cleaning power. This is something that we can provide in Durban using the tools and knowledge needed to get your blocked drains in Durban cleared in time. Our services are fully mobile, prompt and direct to your doorstep.
Our Service-The involved process
We are fully prepared to clean your blocked or clogged drains, whether in your home, office building or commercial premises. We are equipped with the latest tools and diagnostic gadgets to offer efficient and cost-effective solutions to any drainage-related problems.
To begin with, we carry out diagnosis procedure to find out the root problem of the blockage. We can utilize our CCTV drain diagnostics to do this. Most of the times, we use chemicals to skillfully remove the blockage in pipes. On other occasions, we use high pressured water jets or industrial plungers for the same. However, if the case is extreme, it may be necessary to remove and replace the infected pipes. Also, we use electro-mechanical cleaning for smaller pipes such as those in your toilets, bathrooms, and sinks within your bathroom or kitchen. Our highly skilled team of plumbers is capable of taking care of your problems in whatever case, whether big or small. They are highly trained and qualified to do any plumbing job that you might want to be done.
It is prudent to consult a professional plumber when dealing with clogged or blocked drain. Avoid taking matters into your hands because this might end up being costly. In the case of blocked sinks, overflowing drains or blocked toilets, call the experts in Drain Cleaning in Durban today on 087 550 3144.
Get in touch with us for all your emergency plumbing related problems.